Support Staff
Meet our team!
New Patient? 
Let's get started
Learn more about our friendly staff!
Please see our staff bio's below!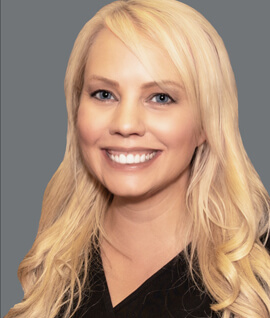 Joanna
Practice Manager
Joanna is the practice manager at the Brentwood Village Dental Clinic and has been with the clinic since it opened in 2001. Joanna came to the Brentwood Village Dental Clinic with a background in business management and marketing with a Marketing Certificate from SAIT. Since 2001 Joanna has continued to expand her education.
As a Registered Dental Assistant who has successfully completed SAIT's Preventive Dentistry Module Joanna wears many hats at the office. Always friendly, cheerful and willing to go the extra mile, Joanna has grown to know many of our patients not just by name but on a personal basis. She manages our team skillfully and efficiently, always making sure personnel are providing the highest standard of care to our patients.
Joanna also provides our IV sedation for the general dentists, having years of experience and her excellent sense of humour always puts our more nervous patients at ease.
Joanna enjoys reading, working out and browsing the latest on Pinterest but most of all she loves spending time with her children.
China
Clinic Supervisor
China has been a member of the Brentwood Village Dental Clinic's team since March 2010. She is hardworking and extremely motivated. China is a dedicated leader and her ability to multitask has led to swift promotion. Her position as Clinic Supervisor is well suited to her strong skill set.
As well as coordinating the entire front end staff and helping patients, China manages her own delegated tasks. Among these vital duties is being Treatment Coordinator, sending and managing predeterminations. China also works assisting Dr. Khana in oral surgeries and IV sedation. China completed her RDA education in 2015.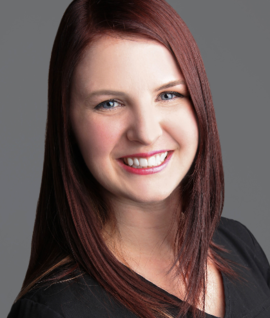 China enjoys taking in the natural beauty of our city and its surrounding area by participating in outdoor activities. As a native of Calgary and fitness enthusiast she likes biking, skiing, playing tennis and camping.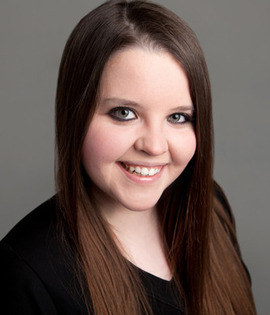 Carmel
Business Office Supervisor
Carmel, born and raised in Calgary, developed a love of music at a young age and is a very talented musician. While particularly gifted at the flute (grade 4 royal conservatory) which she played in concert band, Carmel also played the piano and drums in her high school jazz band. She has lent her talents to the Mount Royal Band and the orchestra in the play Camelot which showed at the Pump House Theatre. As a mother of two, Carmel is less dedicated to being a professional flutist but still enjoys playing recreationally at church, concerts and weddings.
After graduating from high school Carmel completed courses in Medical Office Administration and How To Be An Outstanding Receptionist. With such pertinent training and her sugary sweet personality she is a perfect fit at the Brentwood Village Dental Clinic.
Carmel joined our team in February 2009; since then her congenial demeanor, keen attitude and professional dedication has earned her a swift promotion as Business Office Supervisor. As part of our Management Team, Carmel is always delighted to be of assistance to staff and patients alike.
In her free time Carmel enjoys camping, riding horses, going for walks, quading / snowmobiling, riding bikes, watching movies, visiting friends and spending quality time with her close-knit family.
Jocelyn
Clinic Supervisor RDA LevII
Jocelyn worked for three years as a dental receptionist before she decided to further her education. Her father's work in the dental field as a dental technician made her decision an easy one. Jocelyn would become a dental professional as well. She graduated from the Dental Assistant Professional Program at Columbia College in 2009 and joined the Brentwood team in 2010.
When she's assisting, Jocelyn primarily works with Dr. Salloum and Dr. Khanna here at the Brentwood Village Dental Clinic. Her excellent work ethic and professionalism along with her warm demeanor have endeared Jocelyn to staff and patients alike. Jocelyn's dedication has also seen her to a swift promotion as Assistants' Supervisor, a position which she continues to excel at.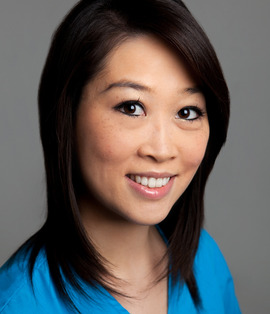 Jocelyn is also the treatment coordinator for our office. This means that if you require a predetermination for treatment, Jocelyn is the one who submits to your dental benefits provider. She also follows up with our patients regarding predeterminations, providing written estimates outlining the patient's portion.
Recently married, Jocelyn loves spending time with her husband as well as hanging out with friends. Jocelyn also enjoys wine tasting, cooking and shopping with a special affinity for handbags.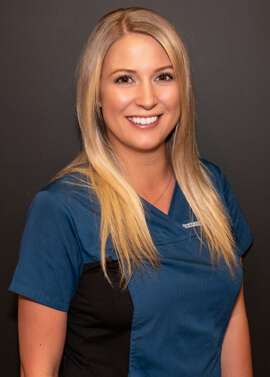 Kassandra
Clinic / Business Office Supervisor, RDA LevII, PDM
Kassandra, who has been a part of the Brentwood team since 2008, was born and raised in Calgary where a quick passion for figure skating developed at the age of 6. At age 19 Kassandra made the tough decision to let go of her Olympic dream and hang up her skates; she chose to begin a different career path at KDM Dental College where she graduated as a Registered Dental Assistant (RDA). Kassandra brightens up the days of patients and colleagues alike with her charismatic smile and bubbly personality.
In 2013, with the support of management and coworkers, Kassandra decided to further her education by enrolling in the preventative dentistry program at SAIT. Completion of this course has allowed her to perform limited scaling and expand her scope of practice as a RDA.
After three years in Victoria, supporting the education of her husband, Kassandra has returned to Calgary and to the Brentwood Village Dental Clinic. The timing couldn't have been better, as we were pleased to offer Kassandra a promotion to Clinic / Business Office Supervisor. We know that Kassandra will thrive in this role and continue to enhance our clinic.
In her spare time Kassandra enjoys spending time at her home away from home in Whitefish Montana, spending lots of time with family and friends, going to the gym and challenging herself with new adventures. Most of all, Kassandra enjoys spending time with her husband and seeing the wagging tail of their Yorkshire Terrier, Sydney, who is there to greet them every day when they arrive home.
Kassandra and her husband are excited to expand their family and welcome their first child in April 2019!
Amanda
Media Manager
Amanda began working in our clinic as a dental receptionist early in 2007. It became apparent to all who worked with her that she was no ordinary person. Her infectious smile and sincere demeanour soon won the hearts of co-workers and patients alike. Amanda can always be counted on to go the extra mile for all the patients in the clinic.
In her second year of employment it became evident to the clinic managers and dentists that Amanda possessed a vast talent for writing. It didn't take long before she was writing and rewriting all of the clinic's patient education material and recall letters.
We are proud and pleased to say that at the time of writing this bio Amanda is now the clinic's media manager. This part of her job description includes creating, writing and editing all of the clinics printed advertisements, brochures and posters as well as an ever changing vast array of patient education material.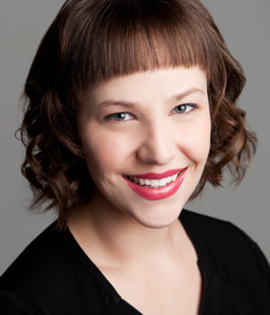 She worked closely with our website designer to create a state of the art website which she continues to manage; making updates continually with material she has developed and written herself.
In addition to the website Amanda manages and maintains the clinic's Facebook, Twitter and Instagram pages, constantly keeping our social media current, relevant and entertaining.
The clinic also has a blog of which Amanda is the sole editor and manager, posting researched peer reviewed articles and helpful links as well as excellent relevant articles she has written herself drawing on her vast knowledge of the industry and her passion for health and helping others.
Amanda still keeps herself grounded with regular shifts at the reception desk helping patients of the clinic. She is also a front office supervisor handling many human resources tasks as well.
Amanda is passionate about children and all issues related to children. Specifically, she is very interested in childhood dental problems. She writes passionately about prevention education and treatment of childhood dental problems.
She is an avid supporter of many children's and women's charities. Amanda single handedly organized the clinic's sponsoring of a child for Christmas 2012 through the Alberta Children's Hospital.
Amanda is happily married with two beautiful sons. The Brentwood Village Dental Clinic's staff, management and dentists are all incredibly proud of Amanda and her accomplishments. She is a valued asset to our team.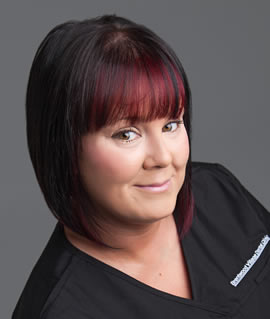 Amanda
Dental Receptionist, Endo Treatment Coordinator
As a wife and mother to two lovely daughters, Amanda has chosen to work part-time in order to maintain a balance that works for her and her family. Amanda is also very involved in her children's schools. If Amanda wasn't already a dental receptionist we could picture her as a professional party planner. She is so crafty, she actually pulls off Pinterest. Amanda has also been known to create awe-inspiring baked creations and somehow amongst all her hobbies and projects she still finds time to be a successful Scentsy consultant.
As a wife and mother to two lovely daughters, Amanda has chosen to work part-time in order to maintain a balance that works for her and her family. Amanda is also very involved in her children's schools. If Amanda wasn't already a dental receptionist we could picture her as a professional party planner. She is so crafty, she actually pulls off Pinterest.
Amanda has also been known to create awe-inspiring baked creations and somehow amongst all her hobbies and projects she still finds time to be a successful Scentsy consultant.
Andreea
Dental Assistant Rda LevII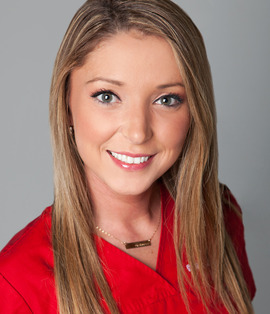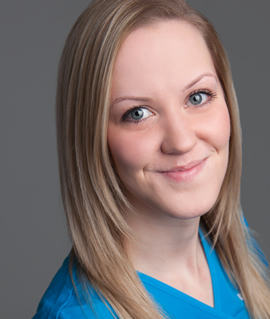 Mckenzie
Dental Assistant Rda LevII
Sydney
Dental Assistant Rda LevII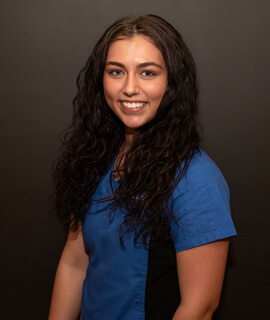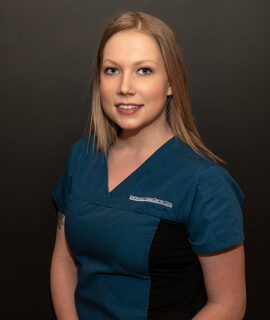 Sydney
Dental Assistant Rda LevII
Taryn
Dental Receptionist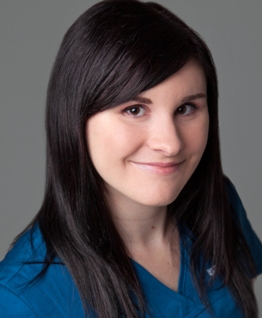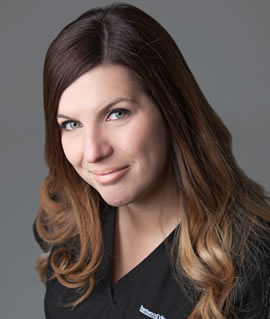 Chantille
Dental Receptionist
Chantille has been a valued member of our reception team since August 2014. One of the hardest working people we know, Chantille held down two jobs until she became a mother on a very special Valentine's Day in 2018.
Years of experience as a server gave her a plethora of experience in customer service and many other transferable skills, including masterful multitasking. She is thorough, efficient and dedicated in her duties. Chantille serves as the liaison between our office and the dental specialists we refer to.
Originally from Winnipeg, Chantille's family moved to Calgary when she was 9 years old. Chantille describes herself as a "homebody" and loves spending time with her husband, daughter and her corgi chi named Nixon.
Chantille and her husband enjoy watching football together, taking walks as a family and visiting dog parks. Chantille enjoys cooking, baking, party planning and entertaining. She also has a particular interest in home decor.
Michelle
Dental Assistant Rda LevII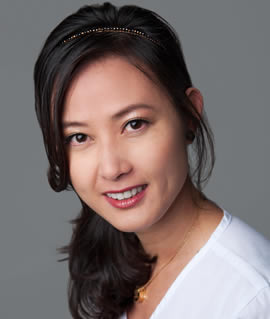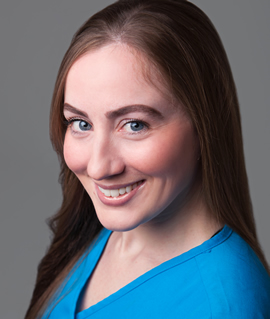 Kristen
Dental Assistant Rda LevII
What do our clients say?
Don't just take our word for it.
I've been going to Brentwood Village Dental for years now and it's always a great experience for me. I'm always

welcomed by the smiling girls up at the front and the wait to get in isn't long. I recently went in for a checkup and cleaning and it was lovely. The girl who was taking care of me was very personable and conversation was funny and great - there's nothing better than having great company while getting your teeth cleaned 😉 I will definitely be back....more regularly and would highly recommend this place!! Thank you Brentwood Village Dental Clinic for being so wonderful time and time again!

read more
Jennifer Lam
20:48 20 Jun 18
My son had his wisdom teeth pulled by Dr T Kim and he was absolutely amazing. The instructions were very clear. Dr Kim

is polite, thorough and very competent. He even did do a house call to check back on his patient. He has a special way to connect with his patients which put them at ease. We had other dental work done by him, we were equally satisfied with excellent work. We never had complications.

read more
Andrea Schumann
06:02 03 Jun 18
Everyone here is so amazing! I have been seeing Dr Orr since I first moved to Calgary about 20 years ago. I come back

to him whenever possible because of his wonderful personality and gentle manner. I can't think of a single complaint in all this time about any of the other staff or hygenists I've seen over the years either - stellar team!

read more
Christy Rock Paper Brushes
01:04 06 Jun 18
After my phone told me the dentist office was across from where the sign at the mall says, I called to double check.

The feeling I got just from calling the receptionist was that this place was helpful, and patient (what everyone wants out of a dentist office). Upon arrival, the staff were friendly and had me fill out the general survey for new patients. I used to be really great at the dentist until my last visit (at another office) a few years back. My last experience was unpleasant and so I felt a little anxious coming to a new dentist. I let the hygienist (Alona, sp?) know about my past experience and she made sure to get me comfortable in the chair. She was also really nice, so I expected much of the same from the Dr who was going to check for what I thought was going to be a mouthful of cavities (thankfully that wasn't the case). They gave me suggestions for oral care and I was on my way within an hour. They also direct bill which is a GIANT bonus, and are affordable compared to other dental offices in the city.Would recommend 10/10 visiting again and telling my friends 🙂 Thanks for the check up!

read more
Katelyn MacIntyre
19:47 31 May 18
I had been unable to eat or sleep in days and had a dental infection that 2 rounds of antibiotics was making worse.

These were the first people to not treat me like morons because I got an infected tooth ( the hospital at 1 am because I hadn't slept in 3 days for example was completely ignorant). And they helped me. I owe so much to them and still have the tooth in my mouth simply because they actually listened to what I was saying. Everyone assumed neglect where resistance was the issue. Thank you Brentwood Village Dental. I will be back.

read more
Justin Guay
14:21 07 Jul 18
I have been going to this clinic for the last 8 years, 4 times a year. Have never had a complaint. I was there today

with my favorite dential hygentis Tara. She is careful and professional in all she does. The entire staff is helpful and greet you with a smile. I booked my next appointment 4 months away to make sure it was with Tara again. I would recommend this clinic to anyone and everyone.

read more
Joseph Durand
03:56 17 Aug 18
My family and I have been patients at this clinic for almost three years. I have been more than pleased with the

service, attention and professionalism from Drs. Kim, Tan, Baghdadi and Rodriguez not to mention the dental assistants, receptionists and hygienists. Always so polite and accommodating. Dr. Kim saved my tooth from extraction by performing a filling to it. I am very grateful! Thank you also to Drs. Kim and Tan for being there to help make my younger daughter's visits at the dentist a smooth and positive experience! Very content with your clinic. There is a calm peaceful atmosphere reigning over the clinic.

read more
Natalie Titley
01:46 08 Aug 18
Calgary Emergency Dental Clinic
If you have a toothache, swelling, loss of teeth, broken tooth, moderate to severe pain or any emergency related to your oral health, then….