Daily Oral Hygiene
Keep your mouth clean!
New Patient? 
Let's get started
Calgary's Oral Hygiene Clinic
Your oral health is important!
At every age, regular daily care of the mouth and gums is important. To have good dental health, you need a mix of personal dental care, and the care of your dentist. Your daily health care routine should include brushing, flossing and careful nutrition.
Contact us today to book your next appointment!
Tips for Great Oral Hygiene
5 Steps Toward Good Oral Health
If you take care of your teeth and gums at home and visit your dentist regularly, your smile should last you a lifetime. You and your dentist are partners in keeping your oral health good for life.
Brushing Your Teeth
Regular, thorough brushing is a very important step in preventing tooth decay and gum disease. Brushing removes the bacteria that promote tooth decay and the plaque that can cause gum disease. Get the most out of brushing your teeth by using these tips: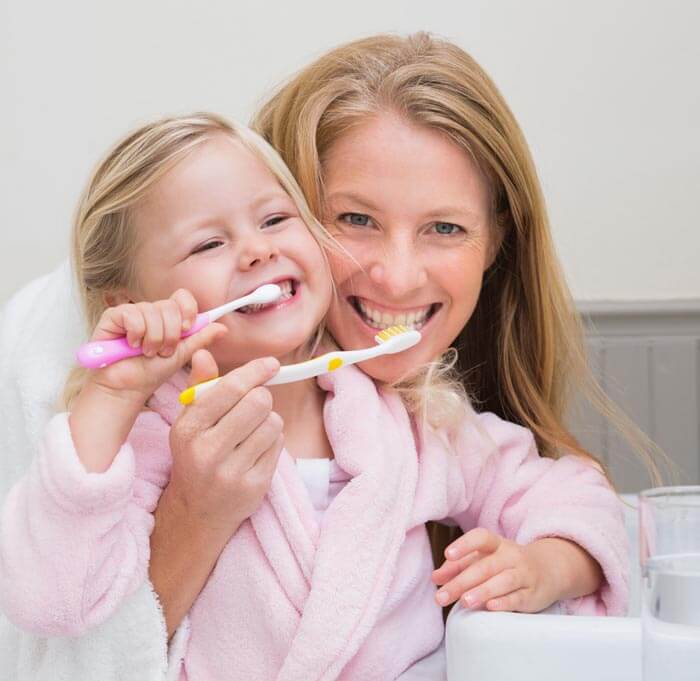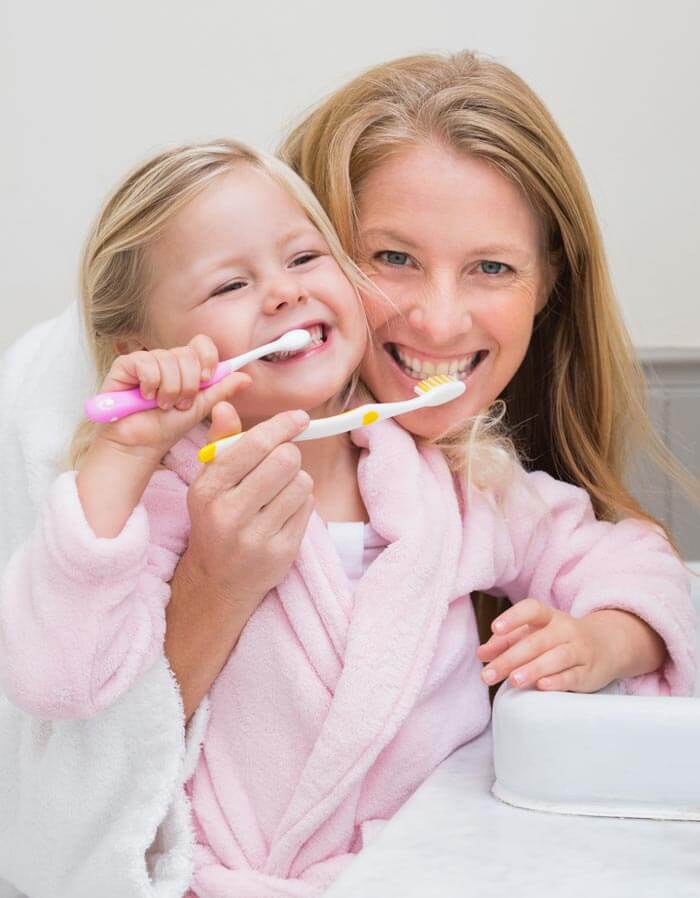 Ideally, you should brush after every meal. If this is not possible, you should brush at least twice a day, once in the morning and once before bed.
Use a regular or electric toothbrush with soft bristles. Be sure to replace it regularly.
Use a small amount of toothpaste, about the size of a pea. Flouride kills the bacteria that causes cavities so make sure it has that and the Canadian Dental Association's Seal of Acceptance.
Brush every surface of each tooth gently, at a 45-degree angle.
Direct the bristles to where your gums and teeth meet. Use a gentle, circular, massaging motion, up and down.
Don't rush! A thorough brushing should take at least 2 to 3 minutes. Try timing yourself.
Brush your tongue, rinse your mouth and let your toothbrush air dry.
Flossing Your Teeth
Flossing removes plaque and bacteria that you cannot reach with your toothbrush. If you don't floss, you are missing more than one-third of your tooth's surface. Plaque is the main cause of gum disease. It is an invisible bacterial film that develops on your teeth every day. Within 24 to 36 hours, plaque hardens into tartar (also called calculus), which can only be removed by professional cleaning. Floss at least once a day and plaque never gets the chance to harden into tartar. Getting into the habit of daily flossing is easier when you floss while doing something else like watching TV or listening to music, for example. How does your flossing routine compare with the following list?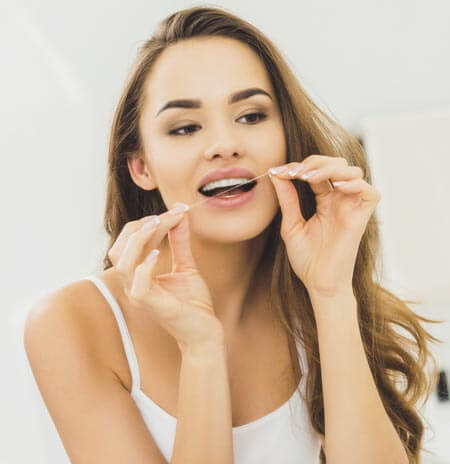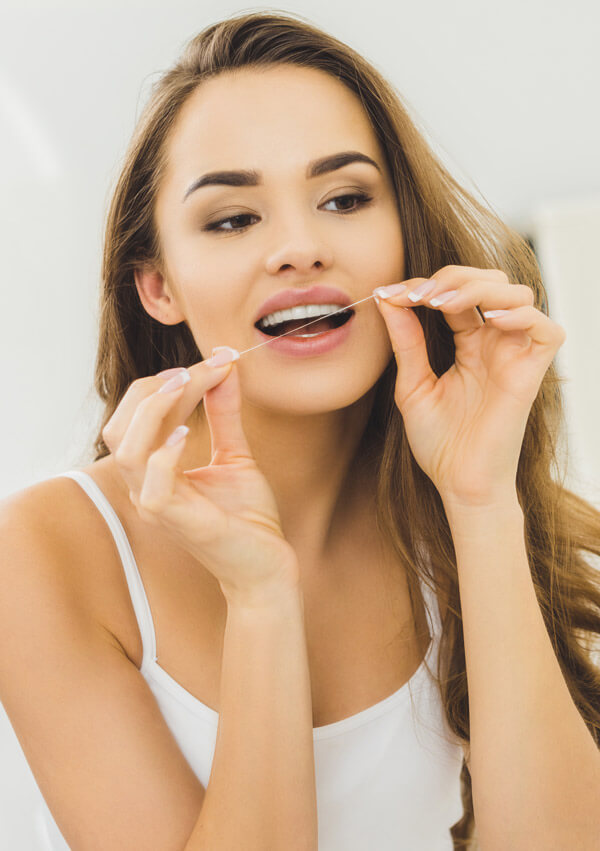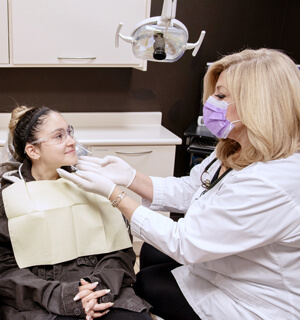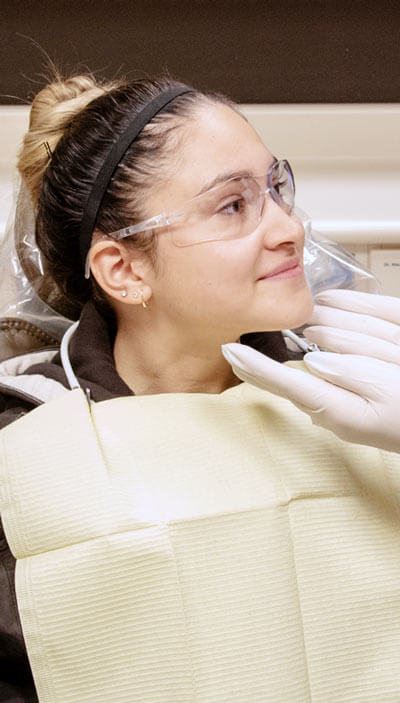 Gums sometimes bleed when you first begin to floss. Bleeding usually stops after a few days. Try rinsing with salt water to encourage healing.
Take a length of floss equal to the distance from your hand to your shoulder and wrap it around the middle finger of each hand, leaving about 2 inches between your hands.
Place the floss between your teeth and wrap it into a "C" shape around the base of the tooth and gently, under the gumline, move left and right, wipe the tooth from base to tip 2 or 3 times.
Be sure to floss both sides of every tooth. Don't forget the backs of your last molars. Go to a new section of the floss as it wears and picks up particles.
Last but not least, brush your teeth after you floss.
Nutrition for Dental Health
A balanced and nutritious diet is good for your general health and your dental health. Without the right nutrients, your teeth and gums can become more susceptible to decay and gum disease. Sugar is one of the main causes of dental problems. The average Canadian eats the equivalent of 40 kg of sugar each year. If you can't brush after consuming a sweet snack or drink, at least rinse your mouth with water or eat a fibrous fruit or raw vegetables. Or, chew a piece of sugarless gum.
Poor oral health can affect a person's quality of life. Oral pain, missing teeth or oral infections can influence the way a person speaks, eats and socializes. These oral health problems can reduce a person's quality of life by affecting their physical, mental and social well-being. Oral disease, like any other disease, needs to be treated. A chronic infection, including one in the mouth, is a serious problem that should not be ignored. Research has shown that there is an association between oral disease and other health problems, such as diabetes, heart disease and stroke, as well as pre-term and low birth weight babies.
A healthy mouth is an important part of leading a healthy life!
What do our clients say?
Don't just take our word for it.
I've been going to Brentwood Village Dental for years now and it's always a great experience for me. I'm always

welcomed by the smiling girls up at the front and the wait to get in isn't long. I recently went in for a checkup and cleaning and it was lovely. The girl who was taking care of me was very personable and conversation was funny and great - there's nothing better than having great company while getting your teeth cleaned 😉 I will definitely be back....more regularly and would highly recommend this place!! Thank you Brentwood Village Dental Clinic for being so wonderful time and time again!

read more
Jennifer Lam
20:48 20 Jun 18
My son had his wisdom teeth pulled by Dr T Kim and he was absolutely amazing. The instructions were very clear. Dr Kim

is polite, thorough and very competent. He even did do a house call to check back on his patient. He has a special way to connect with his patients which put them at ease. We had other dental work done by him, we were equally satisfied with excellent work. We never had complications.

read more
Andrea Schumann
06:02 03 Jun 18
Everyone here is so amazing! I have been seeing Dr Orr since I first moved to Calgary about 20 years ago. I come back

to him whenever possible because of his wonderful personality and gentle manner. I can't think of a single complaint in all this time about any of the other staff or hygenists I've seen over the years either - stellar team!

read more
Christy Rock Paper Brushes
01:04 06 Jun 18
After my phone told me the dentist office was across from where the sign at the mall says, I called to double check.

The feeling I got just from calling the receptionist was that this place was helpful, and patient (what everyone wants out of a dentist office). Upon arrival, the staff were friendly and had me fill out the general survey for new patients. I used to be really great at the dentist until my last visit (at another office) a few years back. My last experience was unpleasant and so I felt a little anxious coming to a new dentist. I let the hygienist (Alona, sp?) know about my past experience and she made sure to get me comfortable in the chair. She was also really nice, so I expected much of the same from the Dr who was going to check for what I thought was going to be a mouthful of cavities (thankfully that wasn't the case). They gave me suggestions for oral care and I was on my way within an hour. They also direct bill which is a GIANT bonus, and are affordable compared to other dental offices in the city.Would recommend 10/10 visiting again and telling my friends 🙂 Thanks for the check up!

read more
Katelyn MacIntyre
19:47 31 May 18
I had been unable to eat or sleep in days and had a dental infection that 2 rounds of antibiotics was making worse.

These were the first people to not treat me like morons because I got an infected tooth ( the hospital at 1 am because I hadn't slept in 3 days for example was completely ignorant). And they helped me. I owe so much to them and still have the tooth in my mouth simply because they actually listened to what I was saying. Everyone assumed neglect where resistance was the issue. Thank you Brentwood Village Dental. I will be back.

read more
Justin Guay
14:21 07 Jul 18
I have been going to this clinic for the last 8 years, 4 times a year. Have never had a complaint. I was there today

with my favorite dential hygentis Tara. She is careful and professional in all she does. The entire staff is helpful and greet you with a smile. I booked my next appointment 4 months away to make sure it was with Tara again. I would recommend this clinic to anyone and everyone.

read more
Joseph Durand
03:56 17 Aug 18
My family and I have been patients at this clinic for almost three years. I have been more than pleased with the

service, attention and professionalism from Drs. Kim, Tan, Baghdadi and Rodriguez not to mention the dental assistants, receptionists and hygienists. Always so polite and accommodating. Dr. Kim saved my tooth from extraction by performing a filling to it. I am very grateful! Thank you also to Drs. Kim and Tan for being there to help make my younger daughter's visits at the dentist a smooth and positive experience! Very content with your clinic. There is a calm peaceful atmosphere reigning over the clinic.

read more
Natalie Titley
01:46 08 Aug 18
Calgary Emergency Dental Clinic
If you have a toothache, swelling, loss of teeth, broken tooth, moderate to severe pain or any emergency related to your oral health, then….