New Patient? 
Let's get started!
Call the office now to book an appointment at (403) 210-5050 or toll free at (888) 978-2853. You may also fill out our contact form and we will get back to you shortly.
Learn More About Dr. Nguyen
He volunteers with the CUPS dental program!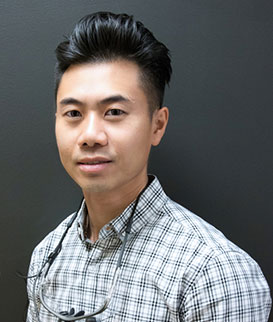 Dr. David Nguyen joined the Brentwood Village Dental Clinic team in March 2017. He obtained his Bachelor of Science degree in Biochemistry from the University of Calgary followed by a Master of Science degree in Microbiology from the University of Hawaii. After a number of years working as a researcher at the Foothills Hospital, he then went on to complete his Doctor of Dental Medicine degree at the University of Sydney in 2016. Having spent a few years abroad for school, Dr. Nguyen is eager to be back home and to serve the community that he grew up in.
Dr. Nguyen enjoys and aims to be proficient in all areas of general dentistry. He is passionate about continuing education and has taken courses in endodontics and oral surgery. Dr. Nguyen is committed to giving back to the community and has volunteered with the CUPS dental program in downtown Calgary. Dr. Nguyen strives to create a welcoming and comfortable environment for all of his patients.
Dr. Nguyen is fluent in both English and Vietnamese. Being bilingual allows Dr. Nguyen to communicate clearly with a wide range of patients.
In his free time, Dr. Nguyen enjoys spending time with family and friends. Dr. Nguyen likes staying active by weightlifting, mountain biking and snowboarding. Dr. Nguyen also enjoys sports such as hockey, golfing and tennis.