Pediatric Dentist Services
Pediatric Dentist Services
New Patient? 
Let's get started!
Call the office now to book an appointment at (403) 210-5050 or toll free at (888) 978-2853. You may also fill out our contact form and we will get back to you shortly.
Pediatric dentist in Calgary
Did you know that most children get cavities?
At Brentwood Village Dental Clinic, our priority is to create an inviting and comfortable experience for your child. When children begin their dental journey in a positive manner, it will carry into their adult years and they are more encouraged to take good care of their teeth and gums.
We provide dental care for children from birth to 16 years of age. Our pediatric dentists are specially trained to communicate in a way that helps alleviate any fear or anxiety with young children and teens. We focus on education, prevention, and establishing a trustworthy patient-dentist relationship. Our team is committed to making each visit to the dentist a great experience for the whole family.
Why visit a pediatric dentist?
Dentists who go the route of pediatric dentistry often do so because they have a vested interest in working with children.
Pediatric dentists obtain further training that involves the study of child psychology, child management, and behaviour guidance. With these tools, they are able to provide a pleasant and rewarding experience where your child can feel relaxed and confident.
Pediatric dentists are also educated on the growth and development of a child's teeth and bone structure. They ensure that your child's teeth and jaw are growing normally and can detect issues early on.
Our dentists treat dental issues unique to infants, toddlers, and adolescents including:
Thumb sucking
Baby teeth loss
"Shark" teeth
Grinding
Tooth decay
Tongue thrusting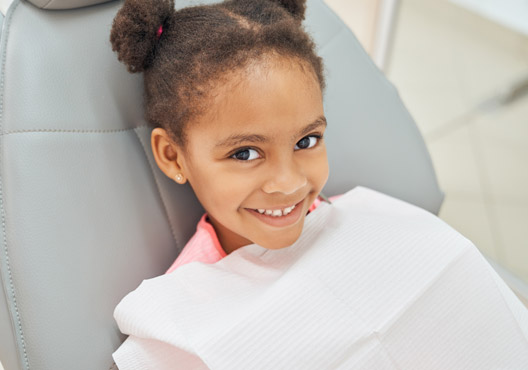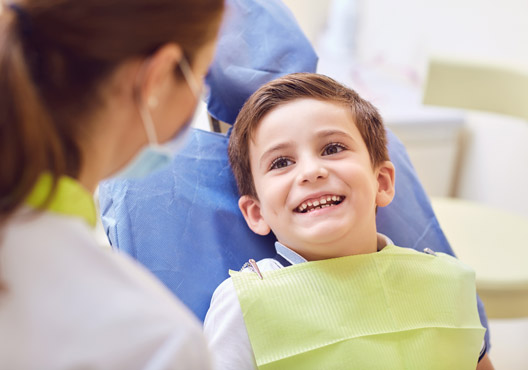 Preventive dental care for children
We recommend your child's first visit to the dentist within six months after their first tooth erupts or at one year of age. Establishing a good oral health routine at a young age can lead to fewer problems for them in adulthood. We focus on preventive dental care with regular cleaning, fluoride treatments, and a comprehensive exam to identify and detect issues early on.
One of the most common dental concerns that we see in children are cavities. We work with children and parents to help prevent cavities from developing and teach our patients about healthy habits as they grow. At each appointment, we evaluate how your child's teeth and jaw is developing so we can correct any foreseeable problems.
Call us today to book your child's next dentist appointment